In the competitive world of gaming accessories, Alienware is a name that stands tall, known for consistently delivering high-performance products that elevate the gaming experience. The Alienware AW320M Wired Gaming Mouse continues this legacy, offering gamers a combination of precise tracking, durable construction, and customizable features that cater to the discerning demands of today's gamers. In this comprehensive review, we will explore every facet of this gaming mouse, addressing key questions and showcasing its capabilities.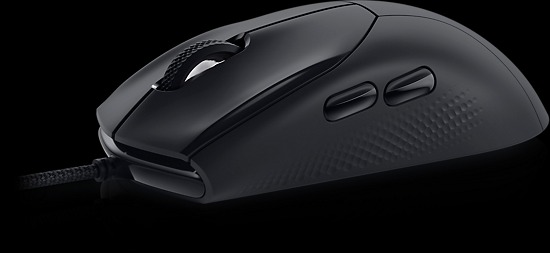 BUY NOW
Unleash Precision with a High-DPI Sensor
The Alienware AW320M Wired Gaming Mouse allows you to experience gaming in a whole new dimension, thanks to its high-DPI sensor. With a native DPI of 19,000, this mouse ensures exceptional tracking accuracy, enabling you to make precise movements and aim with pinpoint precision. Its impressive tracking speed of up to 400 inches per second and a maximum acceleration of 50G guarantee that you can react instantly to any in-game situation. Whether you are engaged in fast-paced action or precise targeting, this mouse has got you covered.
Durable Construction for Rigorous Gameplay
This gaming mouse is built to endure the most intense gaming sessions. Its L/R keyplates, offering crisp and tactile clicks, are engineered to withstand up to 60 million clicks. This durability ensures that your mouse won't falter in the heat of battle, making it a reliable companion for every gaming challenge you take on.
Six Programmable Buttons for Personalized Macros
In the world of gaming, customization is key to gaining a competitive edge. The Alienware AW320M Wired Gaming Mouse is well aware of this, providing you with six fully programmable buttons. With these customizable options at your disposal, you can create custom macros and key assignments that streamline your in-game actions, enhancing your performance and giving you the upper hand in your favorite games.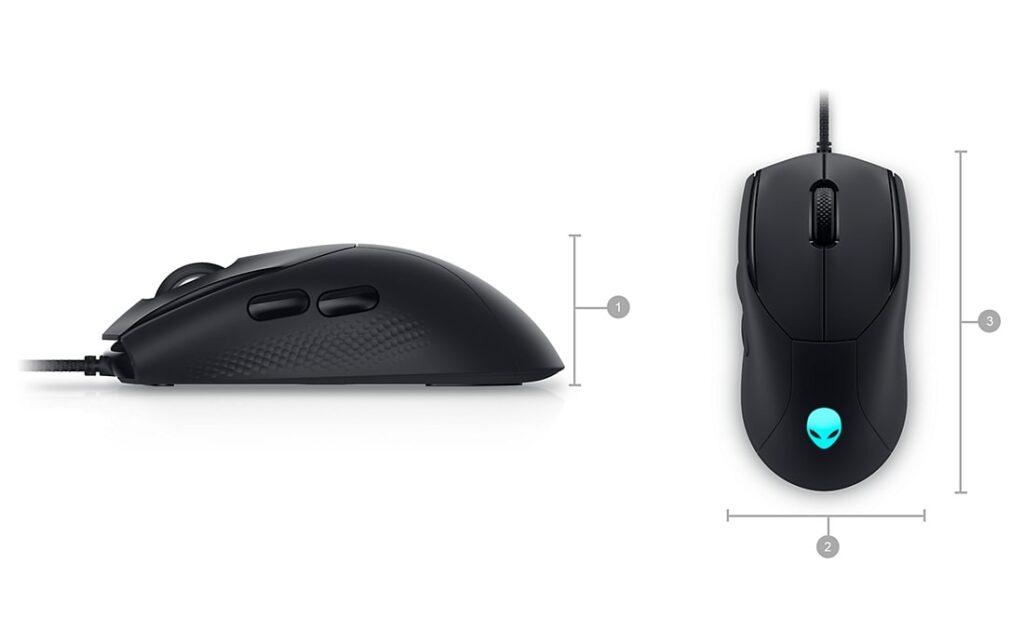 BUY NOW
Dimensions & Weight
1. Height: 1.5 in. (38 mm)
2. Width: 2.46 in. (62.4 mm)
3. Depth: 4.9 in. (125 mm)
Weight: 0.16 lbs. (74 grams)
Cable Length: 6.5 ft (2 meters)
Ultra-Flexible Cable for Unhindered Movement
The last thing you want during a heated gaming session is your mouse cable impeding your movements. The Alienware AW320M Wired Gaming Mouse solves this issue with its ultra-flexible paracord USB-A cable. This lightweight and flexible cable drastically reduces drag, allowing you to move freely and react swiftly, even during the most intense and fast-paced gaming moments.
Ergonomic Design for Comfort and Control
Gaming for hours on end should be a comfortable and controlled experience. The Alienware AW320M Wired Gaming Mouse excels in this regard with its slimmed-down design and 3D-sculpted thumb grips. These features enhance both comfort and control, ensuring that your hand finds a natural fit, reducing fatigue, and allowing you to stay in the game for extended periods.
Conclusion: A Great Choice for Competitive Gamers
The Alienware AW320M Wired Gaming Mouse is more than just a peripheral; it's a precision tool for gamers who seek a mouse that is precise, durable, and customizable to meet the demands of competitive gaming. With its high-DPI sensor, durable construction, programmable buttons, and ergonomic design, this mouse is the ideal choice for gamers who demand the best in performance and comfort. Whether you're engaged in esports, tactical shooters, or intense strategy games, this mouse enhances your gaming experience and establishes itself as a top choice for those who aim for gaming domination.